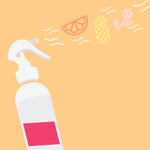 Ready to Eliminate the Dirty Dog Smell Once and For All?
Patented Odor Synthesis Technology
Dr. Theodor Sniff set out on his journey to offer the ultimate solution for smelly dogs world wide.  He researched and experimented until he formulated the 5 pawfect scents.  Dr. Theodor Sniff produced the easy at home grooming solution of a 2-in-1 shampoo & conditioner and a freshening spritz. 
These products not only make pups smell refreshed, but also eliminate the malodors completely.  How is this possible? With a Patented OdorSynthesis Technology.
How it works:
OdorSynthesis is a patented odor eliminating technology that fights and counteracts malodors. It is effective against a broad spectrum of odors, and `works to remove them from the air.  OdorSynthesis reduces the vaporization of malodor molecules and the malodor densities in the gaseous phase. It is safe and extremely stable and maintains its effectiveness over time.
As his son, Dr. Winston Sniff, works to carry on his father's legacy with a new line of grooming products.  He incorporated the Patented OdorSynthesis technology into all of his products.  Dr. Winston Sniff's mission to provide #CleanCoatsForAll and ensure pups and cats never fail The Sniff Test again.