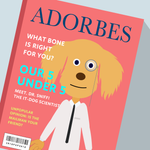 This young scientist is a true pioneer in the pet product space.  Dr. Winston Sniff is changing bath time as we know it, and bringing pups closer to their parents by eliminating the stink between man's best friend and man.
A worthy recipient of the Adorbes 5 under 5 honor.  We had the opawtunity to sit down with Dr. Winston Sniff, a young Master of Coat Health Sciences.

I: Tell us about your inspiration behind creating these products?
DS: "My friends were my main inspiration.  They all complain about bath time because it's not fun for them, and then they feel bad because their humans are frustrated.  They don't want their humans to think they smell bad and not give them snuggles.  I decided there has to be a better way.  So, I set out to make bath time quicker and more enjoyable for everyone involved."

I: How did your fathers work influence your direction?

DS: "My father is a genius, an icon, a legend.  Of course I aim to carry on his legacy.  He perfected 5 scent profiles to eliminate the stink between man's best friend and man.  My work is an extension of his, a modern approach for the current times."

I: What are your plans for the future of the brand?

DS: "I have lots of plans! I get new ideas and inspiration every day.  I can't say much, but I will say that you can expect some new additions to the product line very soon!"

I: What do you want to share with aspiring Coat Health Scientists? 

DS: "Coat health is essential.  I would say keep working, keep innovating, and honor each idea you have.  Be confident. Everything is worth exploring!"
I: Please share a piece of wisdom for all the other young entrepupneurs.

DS: "Seek knowledge, keep asking questions, and learn from your humans!  They want to help you the most.