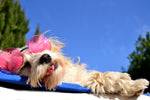 How to Keep Dogs Safe From Summer Heat
Summer is finally here!  Everyone is excited to travel again, and enjoy the sweet sunshine.  With all the fun times and great memories to make, we have to keep an eye on our furry friends. Here are some tips to help you prepare for the hot summer months, and keep your dog safe. 
Never leave your dog unattended in a car, either turned off or left on.  Cars parked in hot climates heat up and become stuffy very quickly.  Dogs left alone could suffer a heat stroke.  Cars can also leak antifreeze from blasting the cool air conditioner.  Dog's are drawn to the sweet taste of this toxic chemical.  If your dog licks antifreeze, even just a small amount, seek veterinary care.  Antifreeze is poisonous to dogs.  If you are taking your dog along for a road trip to the lake, beach, park, hiking trails, or anywhere in between be sure to prepare a head of time.  Get all supplies your dog needs in advance including water, bowls, food, extra leash and collar, and first aid kit.  Preparing ahead of time prevents extra stops along the way that could endanger your pup's wellbeing.  Be sure to have plenty cool fresh water, and ice, if possible. 
Check the weather and limit outdoor exercise.  Take your pups out for a walk during the cooler hours of the day.  Hot asphalt can burn paw pads, so aim to walk on dirt or grass.   If you are taking your dog out to a park or any outdoor area, be sure there is ample shade for your dog to cool off under. 
Summertime brings along parties and BBQ's, which are great activities for the whole family, including the furry ones.  Watch out for your dog getting into human food.  Particularly harmful foods include grapes, avocados, chocolate, and alcohol of course.
Remember, you know your dog best.  Observe and keep a close eye on your pup while outside during the hot summer months.  If you suspect your dog is overheating or at risk for a  heat stroke. Call and seek veterinarian care.  It is a good idea to travel with vaccination records, and have your home vet contact information handy.  Research veterinarians in the area you are traveling to, and have a plan in case of emergency. 
Our furry friends love to participate in outdoor actives with us just as much as we love to bring them along.  Be prepared, be observant, and be safe!