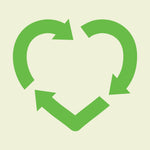 Dr. Sniff's Tips to Be an Eco Friendly Pet Parent
Us pups love the great outdoors.  There's nothing better than running through the park with your pack, going on a hike with the pawrents, or jumping in the ocean when mom's not looking.  We want pups for generations to come to get to experience the beauty and fun the planet has to offer. Choosing Dr. Sniff products is a great start to being an eco friendly pet parent.  Here are some other tips to help you care for your pup and the planet. 
Make Your Own Treats:
Use what you have! No need to waste packaging and food.  Making dog treats at home is a great family activity and us pups can tell when it's made with love.  
Check out these natural dog treat recipes. Always chat with your vet if you have any safety questions. 
Make Your Own Toys:
There's more reusable stuff laying around the house to make toys with than you think! Here's a secret; us pups can't tell the difference! Tie knots in old t-shirts to make a great tug of war toy.  Stack shoe boxes or use PVC pipes to create an agility jump.  Get creative!
Use Natural Products: 
Nothing is more powerful than our amazing planet.  Dr. Sniff uses natural ingredients such as aloe vera, organic coconut oil, argan oil, red raspberry seed oil to nourish restore and fortify pups precious coats.  Dr. Sniff believes in creating a clean and safe home environment for pups and their families. 
Use Biodegradable Waste Bags: 
Picking up is very important.  Help the planet out along the way by using biodegradable waste bags.  Dr. Sniff has the perfect roll of waste bags that are infused with natural lavender to provide a soothing and refreshening smell.  
Recycle Product Packaging: 
Always recycle pet product packaging! Mix up some pet stain remover and use the spray bottles to clean up pet messes around the home when you're out of product. Fill with water for the perfect plant spritzer.